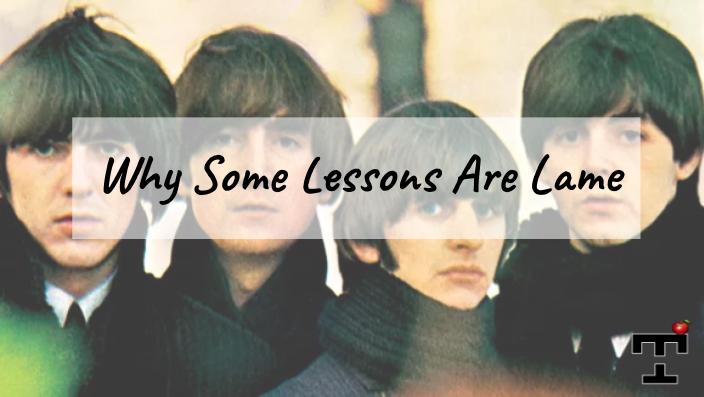 I've had two recent experiences that put into perspective just how absurdly high we set the bar for teachers. That bar is set by many people, from legislators to parents to administrators to fellow educators. Those who study teaching tell us what we need to do to be effective. School districts turn those suggestions into elements on our formal evaluations. Thought leaders take the ball and run with it, penning pen books on how to be better in the classroom. They then take to Twitter to spread their message further.
Dave Burgess (he's the pirate guy) tells teachers to preheat the grill, by which he means to light a fire under your students at the start of your lessons to get them interested.
Matt Miller wants us to ditch textbooks. Textbooks are boring!
Alice Keeler despises worksheets.
George Couros wants teachers constantly innovating.
Teachers should strive to improve, and it's often too easy to do what we've always done. We should look at our practices introspectively, read others' ideas, watch others in action, and see if there might be better ways to reach students.
But we should also recognize that we have limitations, and those limitations mean that sometimes our lessons are lame.
A few weeks ago I went to the Rock and Roll Hall of Fame in Cleveland, Ohio. I saw Michael Jackson's glove, Jimi Hendrix's couch, an Elvis jumpsuit, and many more rock artifacts. What interested me the most, however, were the sheets of paper displayed throughout the museum on which artists had scribbled some of the most recognizable lyrics of our time. Joe Walsh's "Life's Been Good," Jon Bon Jovi's "Living on a Prayer," Bruce Springsteen's "Born to Run," and Neil Young's "Heart of Gold," to name a few.
Songs we've heard hundreds of times, jotted down on hotel stationery or in spiral notebooks no different than the kind my third-graders doodle in. It got me thinking about the work musicians do and how it compares to what we ask of teachers. Both are performers. Both stand in front of a group of people and communicate. Today, both are expected to entertain. The musician, before going on tour, will rehearse. He'll perform the same songs over and over again until he can play them without thinking. Then he'll spend any number of months moving from city to city singing the same old songs, the ones he wrote on napkins and notebook paper years ago.
A teacher will probably not rehearse. There's no time to, really. Unlike the rock star, a teacher has to compose different lessons for every day. While the musician's audience changes nightly, the teacher's remains the same. So no matter how good that lesson on photosynthesis is (and it's a chart topper, baby!), you only get to roll it out once per year. The artist can spend 30 minutes jotting down some lyrics that might be played for 30 years.
A teacher is expected to carefully plan lessons that are done in 30 minutes and might never be played again. The musician, if he's giving the crowd a great show, might play for three hours. Teachers work seven. A rock star who spends 25 years singing the same songs over and over again to different groups of people, only introducing a new hit every few years for the first ten, is considered a legend. A teacher who spends 25 years teaching different lessons every day, coming up with new material for 180 days each year, won't ever be known outside a small circle of people.
And what about each of those lessons? We're told they're supposed to be good. All of them. No textbooks. No worksheets. No filler. No crappy B-sides.
Last week I read the book Talk Like TED by Carmine Gallo. Gallo studied the most popular TED Talks, interviewed many of the lecturers, and came up with sound advice for delivering a memorable speech. Teachers who lecture can learn a lot from it. Unfortunately, one thing they will learn is that giving a great talk is time-consuming. Really time-consuming.
Gallo shares this story:
I received a call from a business leader who is recognized as a pioneer in her industry. She had been invited to give a TED talk and asked if I could give her some tips. "Well, you have plenty of time to practice,' I said after giving her some suggestions on how to craft a compelling story. "Spend the next two months working on the story and the slide design and then three months rehearsing.'

"Three months?' she asked after a long pause.

"Yes. Three months. You'll be giving the presentation every day. Ninety times sounds about right,' I said. "It's a short presentation. Just get up about 15 minutes earlier and practice.'

"Ninety? Isn't that a lot?'

"Well, Dr. Jill Bolte-Taylor rehearsed her TED talk 200 times. It's been viewed 15 million times and Oprah invited her to be a guest on her show. Dr. Jill's TED talk transformed her career.'
Amanda Palmer worked on her talk, "The Art of Asking," for thousands of hours over four months. She wrote on her blog, "I slaved over the talk, writing and writing and re-writing and timing and re-timing and tweaking and trying to fit the perfect sets of information into 12 short minutes."
Teachers give multiple 12-minute talks (and longer) each day, and unlike rock stars, they don't get to reuse them very often. Expecting them all to be excellent is unrealistic. So is expecting them all to be good.
Or even average.
That's why some lessons are lame. To avoid lameness takes considerable time and effort and those things are in short supply for everyone, but especially for teachers. In 2013, the Teaching and Learning International Survey found that while Norwegian teachers spend 15 hours per week in front of their students, U.S. teachers spend 27 hours each week on instructional time, giving American teachers far fewer hours for planning and rehearsing.  [Source]
So if you want to know why I gave your kid a worksheet, this is why. If you wonder why textbook companies still sell a lot of textbooks and teachers still actually use them in spite of being told how lame they are, this is why. If you're annoyed that your kid watched a Magic School Bus video for science class today, this is why.
Lame lessons are a reflection of reality. They are nothing more than the result of a teacher committing time and energy to develop good lessons in some other subject or for some other day. Lame lessons are what you get when teachers have to churn out hundreds of different lesson plans each year with little time to prepare them.
Let's stop expecting our teachers to be better than people who can carve out the time they need to be great. Let's stop expecting the impossible. After all, the Beatles had a lot of hits, but they also had a lot of duds. Even the best teachers are occasionally lame.