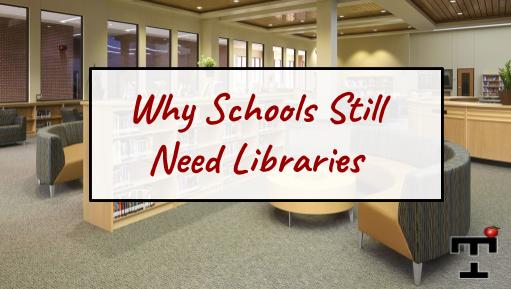 A guest post by Frankie Wallace
For kids, today, living in the digital age might seem like a lot of fun with the endless learning opportunities technology provides them with. Devices like cell phones, tablets, laptops and desktop computers all give students the ability to access an endless amount of information on the web. Even though the digital age gives students the ability to learn new things, kids are still missing out on a wide range of sources of learning, social interactions, physical activities, and most importantly, emotional intelligence.
Since technology has taken over, the question of whether or not libraries are dying in the world — a common misconception — has been a hot topic. While technology is an amazing tool to have, even the best devices are afflicted with fake news, spam, and other dangers of online life.
It's true: School libraries aren't what they use to be. But they still help provide education to students about what's going on and what's worth reading and knowing. In theory, libraries help bridge the digital divide by providing students with the same access to different books and databases. Despite what students might hear about the death of print and the lack of interest in libraries, they're still important. Here's how:
Libraries Get Students College and Career Ready: K-12 students today will one day compete for future jobs in our growing global economy. The most interesting part, however, is that most of the jobs students will one day compete for haven't even been conceived of yet. In order for students to have a fighting chance in the job market, they'll need to be good readers and lifelong learners as well. They'll need to gather, analyze, evaluate, and find ways to use new information to their advantage, which can be taught to students through the use of school libraries.
School librarians can use set standards and educational tools to help students learn these valuable lessons. They can also design programs to educate students on the importance of growth, research, and proper use of resources. Libraries located on K-12 campuses can also provide students with critical information about colleges, universities, and career opportunities. For instance, most librarians are familiar with their school's layout and can find useful information to help students locate what they're interested in and help them determine what career might be best for them.
Helps Students Become Lifelong Learners: Picture a place where all students feel the desire to learn and feel welcome when they come to school. Well, that place actually exists — it's in the school library. For most instructors, trying to teach students how to improve their working memory can be a difficult process, especially if students aren't cooperating.
Luckily, school libraries can help by providing students with more than just books, computers, and internet access. They also provide students with safety, security, and opportunities to think, create, explore, and grow to new heights. This means that libraries, like classrooms, can turn out to be students' favorite spot and expose them to an endless amount of knowledge. In order for this to happen, students need to be willing to practice.
What do students need to be willing to practice? The fundamentals of learning — things like reading and writing. Simply put: Reading is the window to the world. Students who want to improve their education can benefit from reading about communities like the ones they live in or read about people like them. They can even seek information about people who aren't like them, exposing them to new perspectives.
For some educators, the hard part is motivating students to read. Social media could be to blame for children not wanting to read books as much as they used to. Even though social media use among teens is a controversial issue, it's being used in positive ways by student athletes and coaches in schools. Students, for example, can write collaboratively and get feedback from their classmates just as fast. In other words, if used correctly, social media platforms can be used to help improve students knowledge rather than minimize it. This means that the media can be a useful reading source for students and help them learn the core values needed to improve their reading and understanding.
Increases Student Success: According to the American Library Association, research suggests that school library programs staffed with qualified faculty members have a positive impact on students' academic success. This research shows education officials that librarians can, in fact, help students do better academically. English as a Second Language students can perhaps benefit the most, since books and other resources can be used for them to get familiar with the American English language.
That being said, qualified school librarians can impact their schools in a number of ways that normally includes the following:
They're essential partners for teachers and can help students discover topics that interest them.
They can help faculty members find current trends and resources to bring to their classrooms.
Librarians can provide students with the information needed to improve their reading, writing, and academic growth as well.
Districts of all sizes have reached a crisis point. In cities like Los Angeles, for example, over 600 elementary and middle schools are currently without librarians. To make matters worse, budget cuts are making it even more difficult to hire qualified faculty members to help students improve their skills and have a chance to land jobs.
Libraries have always played an essential role in our society, especially when it comes to preserving important information. Because of this, it's our duty as educators, leaders, and parents to teach children the value of knowledge. What better place is there to start than the library?