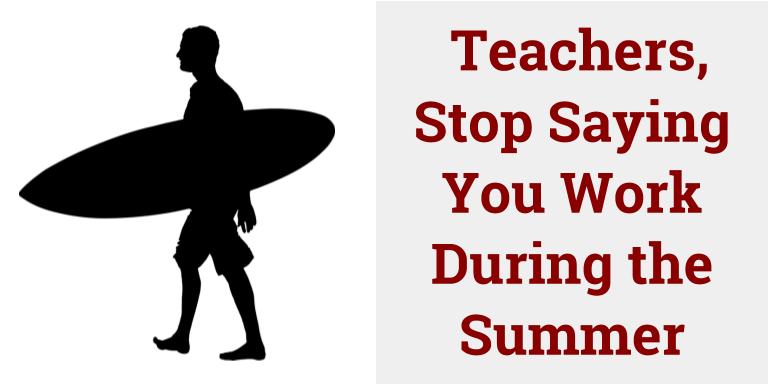 I know, I know. Some of you actually work. Some of you really do plan lessons, attend conferences, renovate your classrooms, teach summer school, or even work a part-time job. Some of you do all of the above.
But most of you don't. I've been teaching seventeen years now. I know a LOT of teachers. Most of my friends are teachers. Hardly any of them work much in the summer. One teaches summer school for three days a week for about six weeks. Most of us do some planning for next year ("vaguely thinking about" would be more accurate). We might read a teaching book or two this summer (might I recommend Happy Teacher?). Almost all of us will, at some point before the year starts, head into our classrooms a few times to get everything in order. But most of us aren't doing much work. Don't believe me? Check out the Facebook pages of the teachers you know.
So can we please stop pretending? Can we stop lying?
Stop Being Defensive
I was on Facebook earlier today when I came across a video a friend had shared. You've probably seen it or one like it. It was about how teachers get no respect and how there's a shortage in teacher prep programs. It listed some of the reasons teachers feel disrespected.
The first comment under the video trotted out the very tired, "Teachers have three months off" argument. Evidently, the commenter missed the part about teachers quitting and young people avoiding the profession. That would seem to argue that those three months off aren't the incentive people think they are. The commenter was beset, of course, by teachers claiming, as they always do, that no, actually, we work those three months! That's not a vacation! We take classes and plan lessons and work other jobs because of our shitty pay. Reading them, you would think that most teachers are busting their asses all summer. We aren't. I sure as hell am not.
And I won't apologize to anyone for that.
Teachers Don't Waste Time
I work hard during the school year. I work harder than a lot of people. I may not work the same number of hours as someone in another profession, but the hours I do work are not wasted. I've never participated in a Cyber Monday. I'm there the Monday after the Super Bowl, without a hangover, doing the same job I do every day. A 2014 survey from Salary.com found that 89% of workers admitted to wasting time at work. 31% waste 30 minutes a day. Another 31% waste an hour. 16% waste TWO HOURS each day. How are they wasting time? Well, Bitly found that traffic on Twitter peaks between 9 am and 3 pm, Monday through Thursday, and that Facebook spikes between 1 pm and 3 pm midweek. Those are curious times, aren't they? It's almost like people in cubicles are not really working that much. Usage drops off at 4 pm, when all those hard working business people go home.
Teachers don't get to waste time. We don't have the luxury of buying crap online while students are watching our every move. We can't check Facebook six times a day to see how many people liked our cat photo from last night. We're not getting into Twitter arguments at 2 pm. In fact, if you're a teacher who tweets you know that educator chats always occur at night. #edchat runs from 7-8 pm on Tuesdays. #edtechchat from 8-9 pm on Mondays. #tlap is scheduled at Monday at 9 pm. When do Twitter chats for marketing professionals take place? #ContentChat is Monday at 3 pm. #BufferChat is at noon on Wednesdays. #BizHeroes is at 2 pm on Tuesdays. Must be nice to have tweeting considered "work." If teachers waste time at school, it simply means we have more work to take home. Other professionals might work more hours than teachers, but that doesn't mean they're doing more work.
Stop Apologizing
Teachers, let's just be honest: Summer vacation is perk. No one else apologizes for their work perks. Why should we?
I'll start feeling bad for enjoying my three months off when business people start feeling bad about their hour-long leisurely lunches at restaurants (that some write off as business expenses), their corporate junkets to Aspen, free tickets to sporting events, paid air travel and hotel stays that allow them to see the country on their company's dime, high salaries, the ability to take a week off in October to vacation during non-peak times, workdays that permit (even encourage) dicking off on social media, paid water cooler conversations about last night's episode of "The Bachelor," and lots of other perks I don't get as a teacher.
But since that's not likely to happen anytime soon, I'll just enjoy my three months off. Every glorious, sun-filled, relaxing day of it.