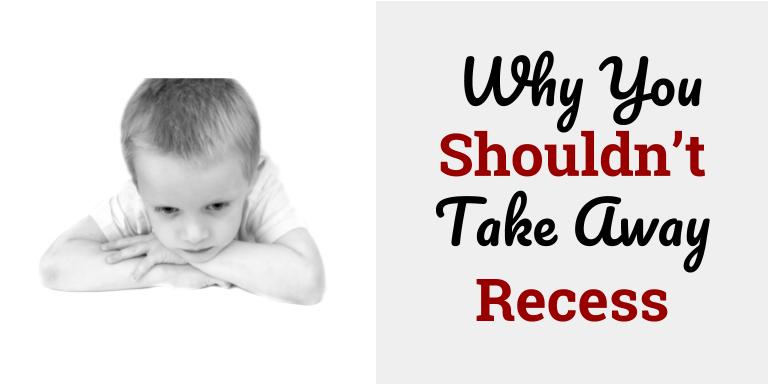 I stopped taking away recess as a punishment for classroom behavior two years ago. I've never regretted it. The elementary school where I work uses a stoplight system for behavior management. If you're unfamiliar, students start out with a clothespin on the color blue. If they break a rule, they move to green. Break another and it's on yellow. Three strikes and it's on red. Many teachers take away 10 minutes of recess from students on yellow and the entire recess for those on red. I used to.
I stopped for a selfish reason. Then, I justified my decision with other, better reasons. Here are the reasons you should stop taking away student recess for classroom misbehavior:
Stop Punishing Yourself
There were days when I made sure I didn't put any students on yellow because I didn't want to babysit during recess. I had stuff to do. If I was going to take away a student's recess, that student had to be supervised by someone. Often, that someone was me. I'm a big believer in not punishing people who don't deserve it, especially if one of those people is me.
Those Students Need Recess the Most
For the most part, the same kids lost recess over and over again. You know the type. They couldn't sit still. Couldn't leave other kids alone. Distracted others and interrupted me with their impulsive behavior. They weren't made for sitting for long periods. They needed to move, make noise, and run into things. So what did I do to punish them for moving, making noise, and running into things? I took away the one time of their day when they could move, make noise, and run into things. The students I punished by taking away their recess were the ones who needed recess the most.
Everyone Deserves a Break
Some people see recess as a privilege, something to be earned. They tell their classes that if they want a recess, they better work for it. That's wrong. Recess is a break. Everyone needs breaks. When you attend a training, one of the first things you want to know is when the breaks will be. If your trainer blithely blows past your break time, you're going to be pissed. If your trainer makes your break contingent upon you working hard and participating, you'll likely feel condescended to. The United Nations mandates that all prisoners receive at least one hour of exercise in the open air daily. Murderers and rapists get an hour of recess. But you won't give Marcus a fifteen minute break because he interrupted your lesson a few times?
It Doesn't Work
If the same students are losing recess more than once per week, that should tell you something about the effectiveness of taking it away. It doesn't work. Most of the students whose recess I took away had problems self-regulating. They were impulsive. They acted, then, like thirty minutes later, thought about their actions.
Sometimes.
These are not the kinds of kids who think to themselves, "Hmm, if I squirt water on Sally's hair then the teacher is going to move my clip. Since I am already on green for shouting out, "My butt is stinky!" in the middle of the social studies lesson, I shouldn't squirt this water because that will result in my clip being moved to yellow, which will subsequently lead to me losing ten minutes of my recess in three hours."
When stuff doesn't work, don't keep doing that stuff.
Snowball Effect
Some students have a difficult time settling down in the morning. Their home environment is loud and chaotic. They may have not gotten enough sleep. They didn't get breakfast. As they enter the room with their classmates, they quickly become overstimulated and do something stupid. You catch them. They're on green. Ten minutes later, they're talking while you're teaching. Boom. They're on yellow. They've already lost ten minutes of recess. Again. "Well," they say to themselves, "today's shot. Might as well go all in." You're not setting up students for success when they know they've already lost the one thing they look forward to all day long. In fact, you're making your job much harder. Why would you want to do that?
The Lone Exception
I do have one exception that I explain to my students on the first day of school: "I will not take your recess away for your behavior in here. I know some teachers will take it away if you're on red. I won't. But I will take your recess away if you are ruining other people's recess. Everyone has a right to have fun at recess. If you are making it not fun for others because of your choices, then you can't be outside."
Students want to hear this. They want recess to be fun. They want to know that adults won't allow jerks to run rampant on the playground.
Parents like the policy. Parents with students who have lost many recesses in the past really like the policy. Many have written to thank me for it.
So what do I do about student misbehavior? Just ignore it?
No. I send emails or texts to parents any time their child ends the day on yellow or red. The great majority of parents want their children to do well and behave in school. Most of them are willing to do their part to make this happen. But they can't do anything if they don't know about the problem. The email simply states what the student did to get on yellow or red. I should also note that students can move back off their color if they improve their behavior, so there's always a chance they can avoid having that email sent.
It doesn't solve all problems. But it works better than taking away recess.