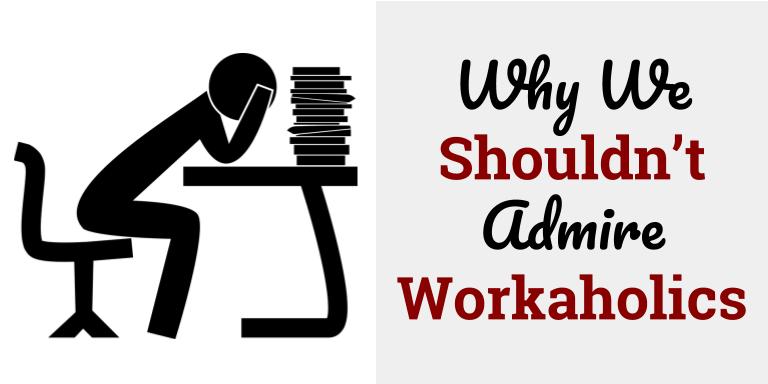 On the last school day of each year, my district recognizes retiring teachers at an ice cream social type of event. The entire faculty attends. The principals of the retiring teachers stand up and tell some bad jokes, then they say some nice things about the teachers. You know.One year, one of the principals started her speech by talking about how dedicated Judy was. "Anyone who knows Judy knows that she's the first one here and the last one to leave every day, even after all these years," she said. We were supposed to be impressed. I wasn't.There are two types of workaholics, and neither of them deserve our admiration.
The Addict
The first type of workaholic is the kind of person who has great passion for and is highly skilled at his job. He gets up in the morning and can't wait to get started. He works all hours of the night because it's a thrill. He gets a buzz off it. Rather than burning him out, the work invigorates him. It's in his blood. When we think of people like this, we often can't help but think of them in any way other than their association with their life's passion. Think of Steve Jobs and you think Apple. Think of Mark Zuckerberg and you think Facebook. They're the embodiment of that whole, "Find a job you love and you'll never work a day in your life," thing.There's nothing to admire about someone who spends an ungodly amount of time doing the very thing that gives him a lot of pleasure.We don't admire other people for doing what they love to do. Nobody is going to write a book about me because I spend hours watching football and eating potato chips. There will be no biopics made about some fat 35-year-old who spends six straight days playing video games. I had an uncle who loved to drink beer. Not only would he have done it for free, he gladly paid others for the privilege. There's a name we give to people who can't stop doing things they love to the detriment of other areas of their lives. The word is addicts. We don't tend to admire them. How is being addicted to one's work fundamentally different from being addicted to heroin, pornography, or gambling? Why should anyone admire a workaholic who does nothing but dedicate untold hours to something he really really gets off on?To answer my own question: The only difference between workaholics and addicts is that society values the workaholics' addictions more than the addicts'. It shouldn't.
The Misguided
The second kind of workaholic is sadder than the first. These are people who do not love their jobs, but they kill themselves at them anyway. They sacrifice the best years of their lives, missing out on their kids' childhoods, straining relationships with those who love them, and making themselves miserable for the sake of pride, a misguided sense of dedication, guilt, or the almighty dollar. Picture the Wolf of Wall Street guy.There is nothing to admire about someone whose appetite for approval and recognition destroys so many aspects of the rest of their lives. Workaholics like these wouldn't exist if society did not reward them with the very thing they so desperately want, its admiration.
Workaholic Teachers
Here's why it matters for teachers. There are those who genuinely love teaching. They are passionate and skilled. For them, teaching is not really work. The long days don't burn them out. They get physically tired, but not mentally or spiritually drained. They're in "flow" when teaching. These teachers are rare. Many of them are excellent. But we should stop holding them up as a standard all teachers should aspire to. You can't instill passion where it doesn't exist, and if the only people we're willing to put at the head of classrooms are those who live and breathe all things teaching, then class sizes are about to skyrocket. The world needs a lot of teachers. The U.S. alone has 3.1 million of them.The rest of the workaholic teachers–those who either lack passion or skill– won't make it much longer. They are exhausted. Many are on the verge of burning out. They're under the false impression that to be any good, they must put in long hours. They've lost any semblance of a work-life balance. They're giving up so much because they feel external pressure to do so. They're leaving the profession, sharing their stories, and those stories are keeping young people from even entertaining a career in education. We've done that to them. When we as a society admire workaholics, we send the message to teachers that they must break their backs to be valued. It's a dangerous message, and we are now reaping what we have sown.