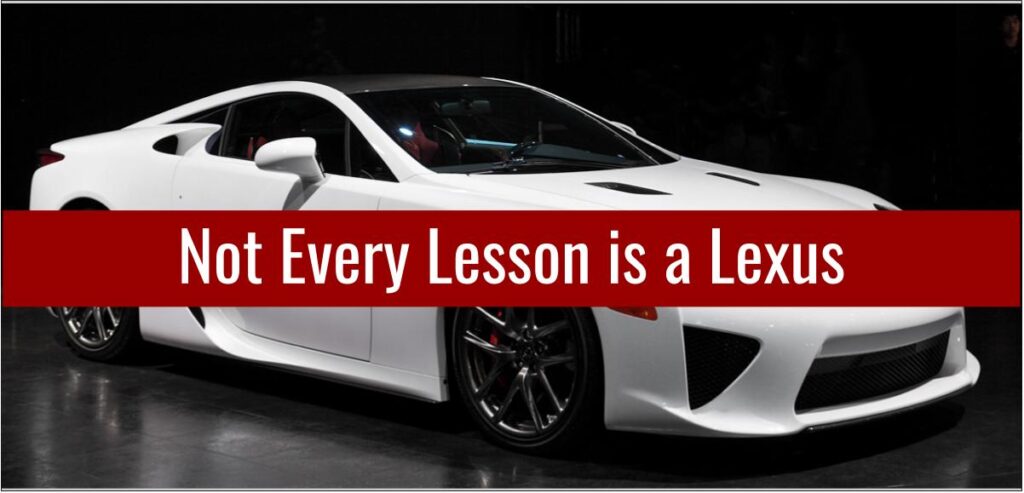 It's the holiday season, which means you've no doubt been reminded about Lexus's "December to Remember" sales event. The commercials have become as much of a holiday tradition as decorating trees, lighting menorahs, and racking up consumer debt.
I am sure it's nice to own a Lexus. They seem like very fine automobiles. You can get one with steering assist, intelligent high-beam headlamps, a center-console app suite that allows you to check Facebook or local fuel prices, parking assist systems, ambient interior lighting, and genuine wood accents, among many other options.
Sounds nice.
But nobody really needs a Lexus.
I have a car. It is not a Lexus. It's old, paid for, and gets decent gas mileage. Most importantly, it reliably gets me where I need to go. Sure, the other stuff would be nice, but if the car doesn't run, none of those options are going to matter.
It reminds me of lesson planning. Teachers sometimes get the message that every lesson has to be a Lexus. Teacher preparation programs are guilty. So are professional books on the topic. If you search online for lesson plan templates, you'll get things like this (obviously created by someone who either never taught or who dropped dead from exhaustion):
Lots of features. But none of them matter if kids don't learn what they're supposed to learn.
Not every lesson has to be a Lexus. Most of the time, a reliable old beast is just fine. Here's an example:
For the past couple of years, I've taught force and motion. One of the standards is for students to be able to understand the concept of balanced and unbalanced forces.
I thought tug-of-war would be perfect. So the first year I taught it, I planned out everything. I thought of the contests students would have and tried to push them into thinking of the same ones (shoes vs. socks, boys vs. girls, left hand vs. right hand, etc.). I decided on the teams ahead of time. I booked the gym and secured the rope. I typed up a list of expectations for behavior and we went over them before going to the gym. I noted what vocabulary I wanted to use with students. I created a worksheet for students to record the results, write down observations and explanations, and note any questions they still had. I created a rubric so I could grade them on their understanding of the concept. That lesson was a Lexus, baby!
And it went fine. But man, I spent a lot of time creating it. Which, if you've ever read this blog before, you know how I feel about that.
Teachers sometimes forget there are trade-offs to every decision. Sure, you can spend an hour designing and preparing for a single lesson. But is that the best use of your time? Are there ways you can cut your prep time so you have more time for other things, including your personal life? Will spending an extra 30 minutes designing a lesson actually lead to more learning? How much more? Is that much worth it?
Does every lesson need to be a Lexus?
We still do the tug-of-war lesson, but these days it takes about ten minutes of planning. The lesson is more like my actual car now. Not as impressive to outsiders but it gets the job done. After all, students just needed to understand the concept of balanced and unbalanced forces. Not exactly rocket science.
Instead of thinking of the experiments and trying to guide students to them, I just let the kids think of them to start with. This past year, they came up with one-arm vs two-arms and facing forward vs. facing backward, two ideas I wouldn't have thought of.
Instead of creating a worksheet, they just take a notebook to the gym and write down the answers to my prompts and questions after each experiment.
Instead of a list of expectations, I basically have one: Stop on the whistle and then follow directions. If you can't do that, I won't pick you to participate in the rope tugging.
Instead of choosing teams ahead of time, I just pick them right there in the gym.
The fancy options aren't important. The learning is what matters. And asking students to do more while I do less is a good way to increase learning while saving my own time and energy for other things.
Lexus's slogan is "The Relentless Pursuit of Perfection." Sounds good. But it's exhausting. Your lessons can always be better. You can always do more. There are always more features you can add. But sometimes, you just need the thing to get you where you're going.