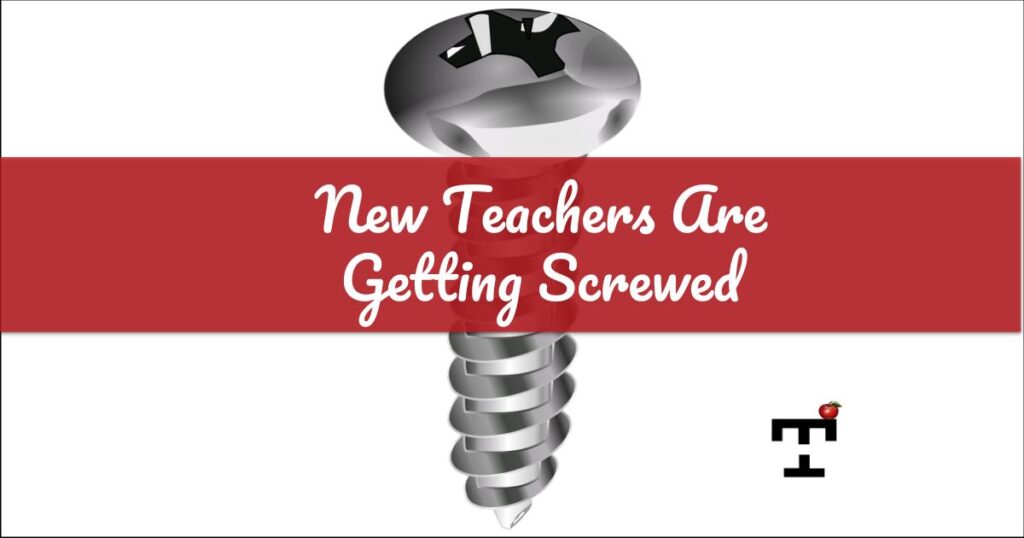 The most recent data show that 10% of new teachers quit rather than return for a second year of teaching. Over their first five years, 17% of new teachers leave. It's a miracle that number is so low. It's a testament to young teachers' idealism, optimism, and dedication. America is extremely fortunate that most of them stick it out. It's often said that teachers don't go into education for the money. That teaching is about the outcome, not the income. It's a damn good thing. Because our new teachers are getting screwed.
I started teaching in the fall of 2000. I couldn't locate any pay stubs from that year, but I did find my 2001 W-2, which was the first fiscal year that I earned a full salary. As you can see, my gross pay was $30,358.
Below you will find the current salary schedule for the district where I started my career. This year, a first-year teacher is earning $32,981.
That's an eight percent increase over 18 years.
Eight percent.
In 18 years.
Let's put that in context.
According to the Bureau of Labor Statistics, inflation rose at a rate of 2.09% per year from 2000 to 2017. Prices this year are 42.2% higher than they were in 2000. If new teacher pay in my old district had kept up with inflation, a first-year teacher would, in 2017, be making $43,108. They'd have 10,000 extra dollars in their pockets. But to make that much, a teacher in that district would need a master's degree and five years of experience.
While new teacher pay has gone up a paltry eight percent,
Milk has risen 30% in the same span.
College costs are 148% more now than in 2000, which means that our new teachers are having to pay off college loans that are much larger than those teachers who started 18 years ago, but they have just 8% more dollars to do so.
Admission to sporting events is 87% higher.
Airfare is 16% more.
And if reading this makes you want to drown your sorrows, alcohol will cost you 40% more today than it did in 2000.
When young teachers say they have to work a second job, they're not exaggerating or being dramatic. They aren't looking for pity. They're telling the truth. New teachers have been given a raw deal.
But It's Worse Than That
If we can't or won't pay new teachers a reasonable income, we could at least make their sacrifice worth it. We could tell them, "Look, we know this sucks right now, but it's going to get a lot better. If you stick it out for three years, you'll see a significant bump in pay." But if my former district is at all representative of other districts — and I have no reason to think it isn't — then that's not the case. After three years in that district, a teacher who has not earned a master's degree will earn just $36,496.
We could offer them more security. We could tell them, "Hey, prove you can do the job for five years, and after that, we'll mostly leave you alone. We'll check in every once in a while to make sure you haven't thrown in the towel, but if you have enough dedication to struggle through five extremely challenging and poorly compensated years, we're going to trust that your heart is in the right place and that you know what you're doing. No formal evaluation, no stupid effectiveness ratings. More trust and autonomy. That's the prize at the end of the tunnel."
But we don't do that, either.
Instead, we subject new teachers to unfair evaluations that only exist because of the presumption of suckiness that pervades all of education. Never mind that these evaluations are based on cruddy data and subjective observations with no evidence of validity. Even if we had wonderful tools with which to measure teachers, we'd still be screwing our newest ones. Almost no teacher is adequately prepared to step into the classroom. You learn how to do this job on the job. But teacher evaluation systems don't recognize this. They expect new teachers to be just as effective as ten-year veterans. They're judged on the exact same criteria with the exact same scales. And if they're not as good as someone who's had ten or twenty years to hone their craft, well, too bad, so sad, don't let the door hit you on the way out.
And Then We Make It Worse
The job is extremely hard, and it's harder for new teachers. Nearly everything is foreign. In addition to the challenges of leading their own classroom, they're deluged with district policies, laws they never studied in college but with which they must comply, new technology they're expected to use with little or no training, a curriculum they've never seen, abstruse health insurance plans, and the unwritten norms that are part of every organization.
On top of that, new teachers often feel or are made to feel like they have to prove themselves. In spite of the fact that they knowingly took an extremely demanding job for little pay, some administrators have the audacity to question their commitment. New teachers are encouraged to start before or after school clubs, to join committees, and to attend extra-curricular events, in order to demonstrate their dedication to a job that fewer and fewer college graduates even want.
We ought to be taking every step possible to keep these teachers in the classroom. Instead, we're doing very little to prevent them from bolting. We take bright, enthusiastic young people who chose a career that pays them peanuts compared to what their college roommates will earn and we frustrate them, exhaust them, and exploit them.
If we don't want to inject the public school system with more money so new teachers can earn a respectable salary that, at a minimum, keeps up with inflation, we can at least show some gratitude to the people who go into teaching and stick around long enough to make an impact, and eventually, a living. If you work with a young teacher, thank them for hanging in there.
And maybe buy them a drink. Lord knows they can't afford to buy their own.
Other articles:
What's Wrong With "Doing What's Best for Kids"
Every Student An Athlete (ESAA)