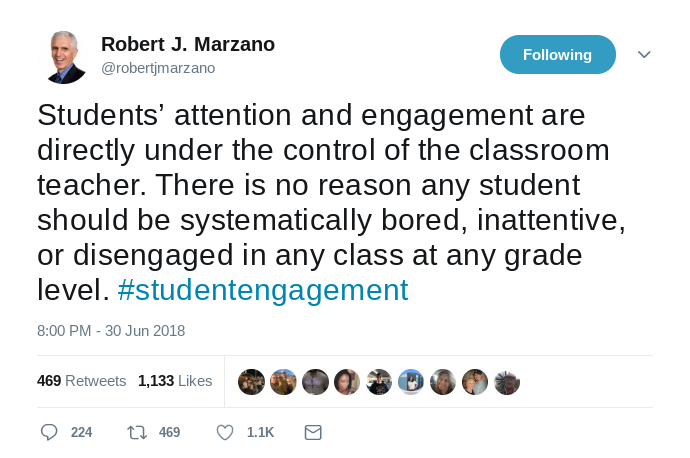 If you don't spend a lot of time on Twitter, you may have missed something revealing. Dr. Robert Marzano tweeted the above and caught hell for it from a lot of teachers. You can read the reactions here, and you should. Not unlike the teacher walkouts of this past school year, they represent a new willingness (maybe even eagerness) of teachers to speak up and push back.
For years, teachers were asked (or, more often, told) to swallow a lot of crap. More and more of us are done eating it.
Robert Marzano has been an outsized part of my professional life for longer than he deserves, but for most of that time, no teacher would dare question him. I've sat in countless meetings where teachers were told to do things because Marzano said so. I've had to read a number of his books. I've sat through his training. My principal uses his system to evaluate me (which, given the above tweet, is more than a little concerning). During all of it, nary a peep of protest was heard. No teacher would raise her hand to say, "But surely you can be a good teacher without writing a learning goal on the board every day, can't you?"
Blasphemy! The kind of which might just cause your administrator to question how serious you were about improving. So we shut up and nodded our heads, and thanks to our polite acquiescence, Marzano's influence grew.
Today, for most teachers, Robert Marzano's name is mud. It didn't have to be this way. When Marzano's first books came out, teachers recognized the value of his work. They even appreciated it. Here was a guy who cared enough about educators' improvement that he had gone out and looked at thousands of education studies, performed some sort of mathematical wizardry hardly any teacher can understand, and then was able to tell us what things worked and what things didn't. At that point, his heart was in the right place. He was Hattie before Hattie.
But Marzano got greedy. He wrote more books. He offered professional development. His work was crammed down teachers' throats by excited administrators, and once that starts happening, it's no longer enough to provide good information. You better be one of us, lest we question your true motives.
Robert Marzano was not one of us.
There are many reasons Marzano's tweet touched a lot of raw nerves.
First, those of us who have been in the arena for a while are predisposed to dislike whatever he has to say. Here's a guy who barely taught, an academic who'd rather read studies written by other academics than remain in the classroom and teach actual kids, who writes books that are only possible because of the labor of other researchers (who at least visit classrooms), and who then has the audacity to tell teachers everything they're doing wrong and what they should be doing instead. I'm not giving him the benefit of the doubt and neither are a lot of other teachers.
Second, the tweet reveals what most of us suspect: that he's out of touch. It's no surprise that a lot of the comments call Marzano out for not being a teacher. That's a fair criticism. Don't tell me how to do my job until you've demonstrated that you can do it.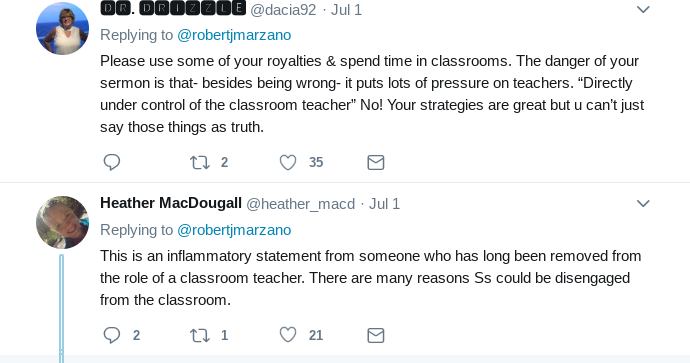 Third, we're sick and tired of being told that students' failures are our failures. Not only is that frequently wrong, it's not even desirable. Who wants to live in a world where individuals have no personal responsibility for the course of their lives, where their success or failure is dependent upon others?

Fourth, we're really sick and tired of being told we're failures by people who don't have to courage to do what we do. Pernille Ripp expands on this idea in this article, which hits the nail on the head. Her conclusion sums up teachers' thoughts nicely:

What Ripp focuses on is the guilt so many teachers feel and how when "experts" make statements like the one Marzano made, it leads teachers to feel like failures. It's demoralizing, exhausting, and unfair. The fact that such sentiments are more often served up by people outside of the classroom than inside of one makes it particularly galling. It's the boxing announcer explaining to his HBO audience that all Tommy Noknuckles needs to do is start pounding his opponent's body with jabs. It's Alabama head coach Nick Saban having to put up with second-guessing from a fifty-five-year-old journalist who's never thrown a football. It's Lebron James dealing with social media criticism from people who can't dribble.
It's the voice of the critic and it reminds me of this:
That's what teachers, a lot of them anyway, are saying to Robert Marzano and those like him. If you're so smart, if you know so much, then put down the calculator and get in a classroom. Teach kids. And you know where someone like you –someone who understands exactly how to keep kids engaged — is really needed? In Detroit. In Philly. In D.C. and Baltimore. In a "failing" public school, since, let's face it, it's those teachers who have been most harmed by your work.
There may have been a reason to feel sorry for Robert Marzano years ago, when his research was hijacked by state governments and used for a purpose he didn't originally intend. But Marzano was not some innocent victim. He could have said no. He could have looked into his crystal ball and considered some of the consequences of having teachers evaluated with checklists of 60 items. He could have easily foreseen how that would be received. Maybe he did and just didn't care.
Regardless, he took the money and therefore deserves to be pilloried when he tweets stupid and insulting things that reveal a complete disconnect from the realities of the professional lives of those who actually have what it takes to teach students instead of sitting in an air-conditioned office in Colorado, reading education studies, and raking in taxpayer money by the bushel. Marzano deserves our anger. But at this point, what he really deserves is to be ignored.