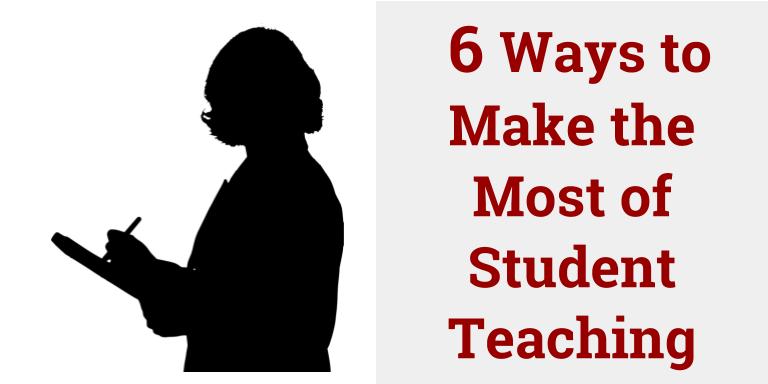 I received an email from a reader who is anxious about her upcoming student teaching experience and wanted to know if I could share some advice. After throwing some ideas around with a much younger teacher (that hurts to type) and reflecting on my own experiences, I've come up with some ideas. Please add your own in the comments so that aspiring teachers may benefit.
To make the most of student teaching, do as Stephen Covey commands:
Keep the main thing the main thing.
The main thing is getting a full-time teaching job next year. Yes, you also want to develop skills, collect ideas, network, and connect with students, but none of that stuff matters much if you don't get your own classroom. Keep your eye on the prize. You are about to start a long interview process.
To that end, and before you get a placement, fight for the grade level you want. Your college will tell you it doesn't matter. What else are they supposed to say? They have limited placement opportunities, so not everybody can get what they want. But we know how squeaky wheels work. So squeak. Your student teaching will be going on your resume. If you want to teach third grade, administrators are going to favor candidates with third grade experience over those who have only taught fifth graders. It's not disqualifying if you student teach in a grade other than the one for which you're applying, but in a close competition with another candidate, it may disadvantage you. Try to get the grade you want to teach for your student teaching.
Now, here's one thing you do not need to worry much about: how good you are at teaching. You're new. You're young. You aren't supposed to be that good. I'm old and still screw up all the time. I have disastrous days. Don't freak out if your lesson flops or your classroom management sucks the first time you get up there in front of students.
My school doesn't invite student teachers, but my wife, a fifth grade teacher, has had five of them. Her criticisms have never centered around her student teachers' abilities. It was their attitudes that made the difference.
To start, do these things:
Be on time – Better yet, be early. At least 30 minutes.
Look professional – If you wear it to a bar, don't wear it to work.
Don't complain – There will be plenty to complain about, but no one likes a cynical 22-year-old. Save the complaints for your roommate.
Get better – You can stink, but your stinking should get moderately less offensive.
Be competent – Know the basics. If you're teaching how to compare fractions, you must understand how to compare fractions. Watch a video or two if you've forgotten.
Enjoy kids – Parts of the job – the ones dealing with adults, mostly – are tedious, annoying, and infuriating. The kids make it worth it. If you don't enjoy them, go find something else to do. Seriously.
Do the work – If your cooperating teacher asks you to give her your lesson plan the Friday before you're going to teach your lesson, then give her your lesson plan the Friday before you teach your lesson. This sounds obvious, but my wife's number one complaint about her student teachers was that they weren't prepared and would expect her to bail them out. This pissed her off. Don't piss off the teacher who's sharing her classroom with you.
If you can't handle those seven things, then the rest of this list won't mean much. You probably won't get past the interview stage, and if you do, you'll wish you hadn't. You simply won't last long if the basic stuff is overwhelming.
All that said, and assuming you're pursuing the right profession, here are 6 Ways to Make the Best of Student Teaching:
Get along with people
I hate calling it "networking" because that sounds icky and manipulative. But look, you'll want to use these people as references on your resume. And even if you don't, they know people who can help you. I got an interview with a high-demand district because the counselor at the school where I student taught knew an administrator over there.
The easiest way to make friends who will one day want to help you out is to show appreciation. Teachers get so little of it, you'll stand out and be remembered. I have a former student who, every Teacher Appreciation Week, writes a thoughtful letter of appreciation to all her former teachers. There's no ulterior motive; it's a genuine expression of gratitude. I can guarantee that when the time comes, she'll be able to name her district because there are many teachers, who know many other educators, who will recommend her.
Start something new
Every person who looks at your future resume will want to see something, anything, beyond what was required. Lots of people can fulfill requirements; special people do more. What's most impressive (and I've sat on a number of interview committees) is initiative that benefits students. We know how busy the student teaching year is, so anyone who gets something novel off the ground is someone we want to hire. It can be simple. Start an after-school reading club for struggling readers. If you've got a talent, start a club for that. Chess, Quilting, Coding. Anything looks good. If you can do something with technology, either outside of school or embedded in your lessons, that's even better. Old people are fascinated by technology, and they're the ones doing the hiring. Volunteering to share your school's good news on Facebook might be a simple way to impress.
Do the grunt work
Make the copies, get the coffee, write out the ridiculously detailed lesson plans your university requires even though no teacher has the time, inclination, or need to ever write them. We've all done it. It's part of the initiation process. And, truthfully, it prepares you for the real world. There's plenty of grunt work in education. I still make my own copies and plunge the classroom toilet.
Shut up
Yes, you learned some stuff in your teacher preparation courses. You read new research and were challenged on the old ways of doing things. This is what colleges do. Academia is great at questioning well-worn practices. But those TAs and profs sometimes don't have much experience in the real world. My student teaching year, I read something about how we shouldn't require students to raise their hands before talking. The article made a lot of high-minded, seemingly good points. I asked my master teacher if I could try it. She looked doubtful, but said go ahead. It didn't go well. There are usually good reasons why schools and teachers do things the way they do. They might not be ideal, but sometimes the alternatives that sound so good in a college classroom cause more problems than they're worth. Listen more than you talk.
Ask questions
Ask lots of questions. This is one of the only times in your career that you will have the opportunity to spend large amounts of time observing professional teachers. Make the most of it, it won't come again. The teachers will do things you won't understand. I guarantee they will have reasons for those choices. Ask about them. Benefit from their hard-won lessons earned through years of experience.
Keep an ideas file
Try to get into lots of different classrooms so you're exposed to an array of teaching techniques, management strategies, organizational methods, and tricks of the trade. Write down everything that looks even remotely interesting. When you're preparing for your first classroom, there will be a ton of decisions you will have to make. Having ideas in a file will give you a place to start. And if that fails, there's always Pinterest.
Good luck. Enjoy it! You're about to learn twenty times more about teaching than you have in all your years sitting in a classroom. Make the most of it!