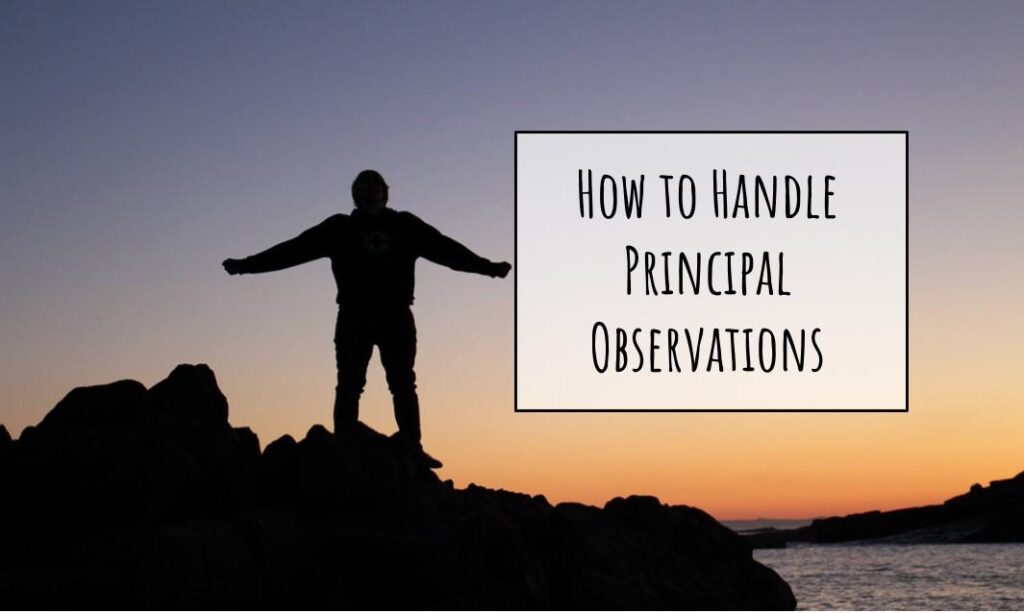 I know a lot of teachers who get nervous about being observed by their principal. With only a couple of observations each year, teachers put a lot of pressure on themselves to perform. They worry how a poor observation will impact their overall evaluation. Some are simply uncomfortable being observed and judged. The irony, of course–and it's one recognized by even those teachers who feel this way–is that worrying about an observation is likely to lead to a worse performance.
So how do you not stress over a principal's observation?
Any time you worry, it means you're nervous. Nervousness comes from fear. So what exactly are you afraid of? If you wrote out a list, I think you'd find that every single item on it comes back to this: You're afraid of your principal's opinion of your abilities. If you didn't care about that, you would no longer be worried. So how do you convince yourself to not care, or at least care a lot less?
Try telling yourself these four things:
My Opinion Matters Most
You have reasons for everything you do in the classroom and no one knows all of them except you. Anyone judging you lacks the necessary facts to make an informed assessment. Everyone has a right to their opinion, but you have the right, and usually the duty, to ignore it. As Eleanor Roosevelt said: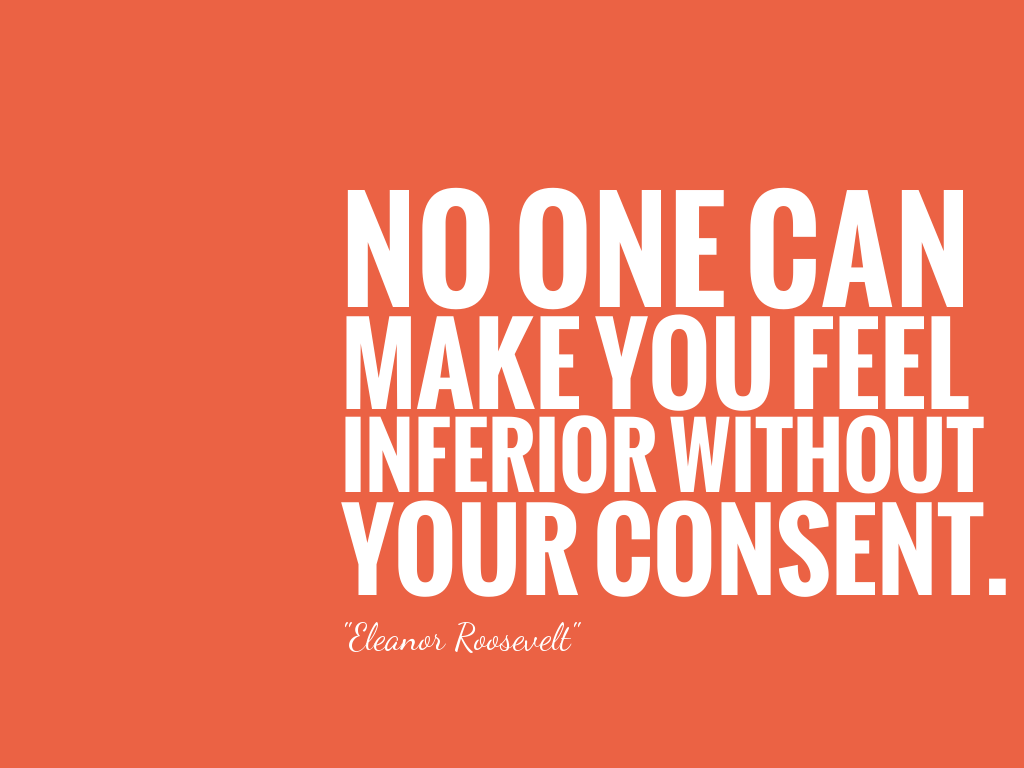 So don't give your consent. Set your own standards for professional success and judge yourself against them. Simply care less what your principal thinks about you. It's nothing personal, you just shouldn't give anyone that kind of power over you.
Garbage In, Garbage Out
Observations are subjective. The truth is, nearly all of your evaluation is based on the opinions of a single person who watches you do your job for a total of maybe three hours out of the more than one-thousand you will spend on it. While you might be able to watch a single Nicolas Cage scene and feel pretty safe concluding that he's a terrible actor,  I'd want a little larger sample size for most professionals.
Consider whether your school district would ever do the following:
To prove to teachers how valid their administrators' observations are, they put all of their principals in a room. On a screen, they show a forty-five-minute video of a lesson. Each principal uses the evaluation tool to rate the teacher across the zillion or so items they're required to assess. And then, after they're done, they all compare scores.
How similar do you think those scores would be?
How many principals would feel comfortable sharing their numbers?
How many districts would dare reveal the results of such an experiment to its teachers?
I have a guess and it's very, very small.
You Own the Moral High Ground
How many meetings have you attended where you were reminded that you, the classroom teacher, has the greatest in-school impact on student achievement? Eric Hanushek has even attempted to tie teacher effectiveness to future earnings for students. (Which I guess is what really matters???)
Every time I hear this fact, I internally roll my eyes. What other in-school factor would impact students more? The quality of the food in the cafeteria? The size of the rooms? The cleanliness of the hallways? Of course the person with whom kids spend six hours a day has the most impact.
But you can also use this finding to feel superior to your principal whenever you worry about her opinion of you.
It is the teacher, not the principal, who has the greatest impact on student learning.
That means that the person who is sitting in the back of your room evaluating your performance opted to take a job that has less impact on the only people who really matter in a school than the one you have chosen. Their reasons don't matter.
Maybe they wanted to make more money. Perhaps they were frustrated by administrators when they were teaching and felt they could do better. Their talents could simply be better suited to leading adults than children. Or maybe they decided they didn't want to teach anymore and there weren't too many other jobs they were qualified to do.
Who cares. Choose whichever reason you like for them. It doesn't matter if it's accurate. Remember, you're doing this to relieve your stress. So if it helps to imagine your principal as a completely ineffectual former teacher who got fed up, quit, and then decided to take out her frustrations on other teachers, go ahead and do it. Feeling superior does wonders for one's self-confidence.
If All Else Fails
Remind yourself of this reality: the only thing that really matters about your evaluation is that it's good enough for your employer to invite you back next year. Don't get caught up worrying about your final score or whether you're "effective" or "developing." Who cares? Because guess what? Next year, you get to be evaluated all over again.
How to Act
Once you've convinced yourself that you don't really care what your principal thinks of you, you can relax and perform. Make it a goal to appear even calmer than you normally are in front of your students. The biggest thing you want to convey during an observed lesson is self-confidence. Here's why:
Confidence inspires confidence. During the 2017 Super Bowl, the Atlanta Falcons were trouncing the New England Patriots. Atlanta had a 28-3 lead in the third quarter, but the Patriots had the most confident player on the field. Even though it looked hopeless for the Pats, there wasn't a fan who watched that game that didn't believe Tom Brady could bring them back. Tom Brady exudes confidence, and his self-belief rubs off on those observing him.
When the principal walks into your room, project confidence. Keep your voice calm and even. Don't gesture much. Resist the urge to put on a show. It will come off as inauthentic and overcompensatory. Respond calmly to students, including any misbehavior. The message you want to send is: I do this every day. It's no big deal. I can handle whatever comes my way. Smile, tell a joke, move leisurely throughout the room.
And don't look at your principal.
If you keep looking back at the principal, you are signaling a lack of confidence. It shows that you care what the principal thinks. Every time you look, it's like asking, "So what did you think of that? Was that okay?"
When a principal sees you looking at him, he thinks two things:
You lack confidence.
Your focus isn't on the students, which is where it should be.
If a principal starts to think you lack confidence, his next logical thought is why? Followed quickly by: If the teacher isn't confident in her abilities, then why should I be confident in them?
The principal won't fear marking you down because you've already signaled self-doubt. You're almost asking for it. It would be inconsistent of you to later stand up for yourself when you meet with him to discuss the lesson. People rarely act inconsistently.
Most people avoid conflict. Confident people send an unspoken message that if you jerk them around, they're not going to accept it. That conversation will not be pleasant. Principals are far less likely to ding a confident teacher than a nervous, insecure one because they don't want to deal with a possible future conflict. So even if you don't feel confident, pretend that you do!
———————————-
What do you tell yourself before an observation? What mental tricks do you use to stay calm and confident? Tell us in the comments!
Like the post? Know others who might like it? Share it on Facebook, please!
Have you joined the Teacher Habits Club? If not, Click here to join and start receiving emails in your inbox (check the Promotions tab if you use Gmail).