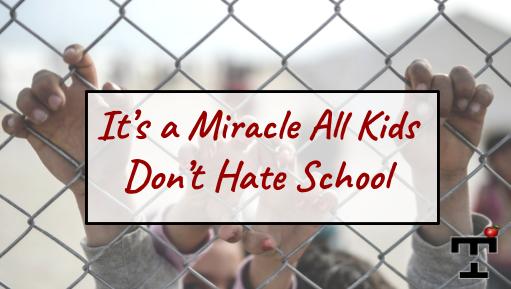 The other morning one of my students picked up a banana from the bowl of fruit set out for breakfast. From across the room, I heard her say, "I hate school," which was an odd thing to say for someone about to eat a banana. I cringed. I want students to enjoy being in my room and to have a positive school experience. When students don't like school, I take it personally.
But the more I thought about it, the more I questioned how much ownership I should take. I didn't love school, and I chose to work in one. My daughter, who does very well in school, balks at getting up in the morning. If you ask her if she likes school, she'll shrug. Lots of kids will tell you they don't like school, even those who seem to like it just fine once they're there.
Teachers, of course, are supposed to feel bad when students hate school. We're often blamed for failing to engage them. We're told we need to make learning more meaningful and fun. If kids don't like school, it's probably because we're not allowing our students to move enough or collaborate enough or create enough or choose enough. We teachers talk too much. We're boring.
Certainly, there are times when those are valid criticisms. Teachers can help make school more appealing to their students. But they're fighting a steep uphill battle. Because the truth is that students have two very good reasons to not like school.
They're Required to Be There
I'm not one of those people who thinks we should abolish compulsory education. On the whole, it does far more good than bad. But let's be clear: Requiring something never makes that thing enjoyable. I struggle to think of a single thing I am forced to do that I enjoy. As a child, I hated taking baths, going to bed, attending church, and eating many of my mother's dinners (they were fine, I was just a picky little shit). As an adult, some of the best parts of my life are bathing, sleeping, and eating my mother's food. The difference was that when I was a child, I was forced to bathe when I didn't want to, go to bed earlier than I wanted to, and eat things I didn't want to eat. As an adult, I get to choose. It's the best thing about being an adult.
In high school, I read a fair amount, mostly Stephen King. Once I got to college I stopped reading. The reason was simple: I was required to. There are books I was assigned in college that I didn't read but later enjoyed when I made the choice to read them on my own. The difference wasn't the book; it was the freedom to choose.
As a teacher, I have read a number of professional books, but if my school decides to do a book study and I'm required to read even a single chapter, I'll put it off as long as possible and then resent it when I do read it.
My former district hosted an ice cream social on the last day of school every year to honor retirees. Almost everybody complained about it. It's not that we didn't like ice cream or retirees. It's that the district required our attendance when we had other things we wanted to do.
There's a really simple way to make an enjoyable activity unenjoyable and something people resent doing. Force them to do it. Take away their freedom to choose. Want to make them really dislike it? Make them do it for seven hours a day for 180 days, year after year. I love Disney World. But I'd like it a whole lot less if you made me go there five days a week between September and June, year after year.
Almost Everything is Contrived
Almost everything done inside a school is contrived. Very little of it reflects the real world. Think of the reading you do and compare it to the reading we ask students to do. I read primarily for two reasons: to learn things I'm interested in and for entertainment. Now consider the reasons your students read:
Because you told them to.
To answer questions.
Because they have a reading response entry due.
To prepare for a discussion.
To get better at reading.
The standards practically require inauthentic tasks. We're all going to learn how to reduce fractions today. Why? Hell if I know, but it's in the standards and you might need it someday (or worse, you need it to pass the contrived test the state devised to see if your teachers are doing a good enough job teaching you contrived things).
Yes, there are moments where students can do authentic tasks, but they are few and far between. You find an article in your local paper and students write letters to the editor. People in the real world actually do that (of course, most of us who read such letters think the writers are quacks with nothing better to do, but still). You have an actual problem in your classroom with storage, so you have students design a cabinet. A group of students saw something on the news and you decide to guide them in some research and have a class discussion about it.
There are opportunities to connect to the real world, but they also require you to be constantly aware of those opportunities and be willing to scrap your carefully prepared plans and possibly ignore the standards everyone expects you to teach. They also mean deviating from whatever cruddy program your district is forcing you to use, so you better keep such lessons on the DL.
Teachers can mitigate this natural resentment of contrived and mandatory things. They can try to bring authentic tasks into the classroom. They can inject fun into their day. They can provide students' choice to give the illusion of genuine freedom. They can build relationships so that students want to be there to be around people they like. But they can never change the two fundamental truths about school to which students are justified in rebelling against.
The next time you hear a student say she hates school, don't feel so bad about it. Don't feel guilty, like you're somehow personally failing her. Be thankful that all students don't feel the same way. Because to hate contrived things that you're forced to do is a natural human reaction. It is, frankly, exactly how we should want freedom-loving people to respond.
*If you're curious, the banana-eating student's declaration of hatred was in response to a well-meaning food service worker writing the phrase, "I love school," in marker on the banana's peel.