I wrote an article near the end of last school year titled, "Most Teachers Don't Love Their Jobs." I held off publishing it for a number of reasons, one of which is it's never a good idea to write anything near the end of the school year and allow others to read it. Another reason was I wasn't sure if I was right. This is true of almost everything I write, but in this instance, the self-doubt was particularly strong. And, also, I knew that such an article would not be received appreciatively. I even tested the waters — focus-grouped it, so to say –by asking the following question on Facebook: If teachers love their jobs, how can they be excited about not doing it for two months?
Responses were as expected, but perhaps that's because those comments were in a public forum where colleagues, bosses, parents, and students might stumble across them.
I have reason to doubt at least half of those responses because I keep running across data that suggest my original hypothesis was, if not exactly true, then more true than we would like to admit or believe.
There are a lot of teachers who do not like their jobs.
WHAT TEACHERS SAY
Spend some time with teachers and you will likely come away believing that they really love what they do. Many of them will straight up tell you, "I love teaching." Some come close enough: "I just can't imagine doing anything else." Others will acknowledge some frustration, but convey that, on the whole, they're satisfied with their profession: "The administration (or parents, or paperwork, or lack of trust, or stupid laws, or stress) is awful, but I love the kids." Some go further than mere love. For them, teaching is a "passion." A few even elevate teaching to the level of the clergy. For them, it is a "calling."
I have no doubt that there are some teachers reading this who really do love their jobs (and also no doubt that they will let me know in the comments). I have less doubt that most teachers have felt this way at some point in their careers. I'm also positive that there are moments (maybe even a fair number of them) when teachers love their jobs. And I'm sure that it's true that many teachers really can't imagine doing anything else. (I know I can't. I'm pretty sure I'd fail miserably in literally every other profession.)
But the data suggest that at least half the teachers who claim to love their jobs just don't.
THE DATA
According to a 2014 Gallup report, just 31% of the more than 7,000 teachers surveyed reported being "engaged" at work. That's in line with the general American workforce, which self-reports engagement at 30%. So it doesn't seem as if teaching is any more engaging than any other job, and it's hard to imagine loving (or even liking) a job you don't find engaging.
A 2015 AFT survey of over 30,000 teachers found that 89% of them "strongly agreed" that they were excited about their jobs when they started their careers, but by the time those teachers took the survey, just 15% still felt that way. The same survey found that 73% of teachers found their jobs "often stressful." So teaching, at least for those who've done it for more than a few years, is unexciting and stressful. Not typical characteristics of things people love.
58% of respondents in the 2017 Educator Quality of Work Life Survey, a poll administered to almost 5,000 teachers and school staff across the country, reported poor mental health for at least a week out of the previous month.
But the one that really got me was this graph, one of many produced by CEP in a report titled, "Listen to Us: Teacher Views and Voices."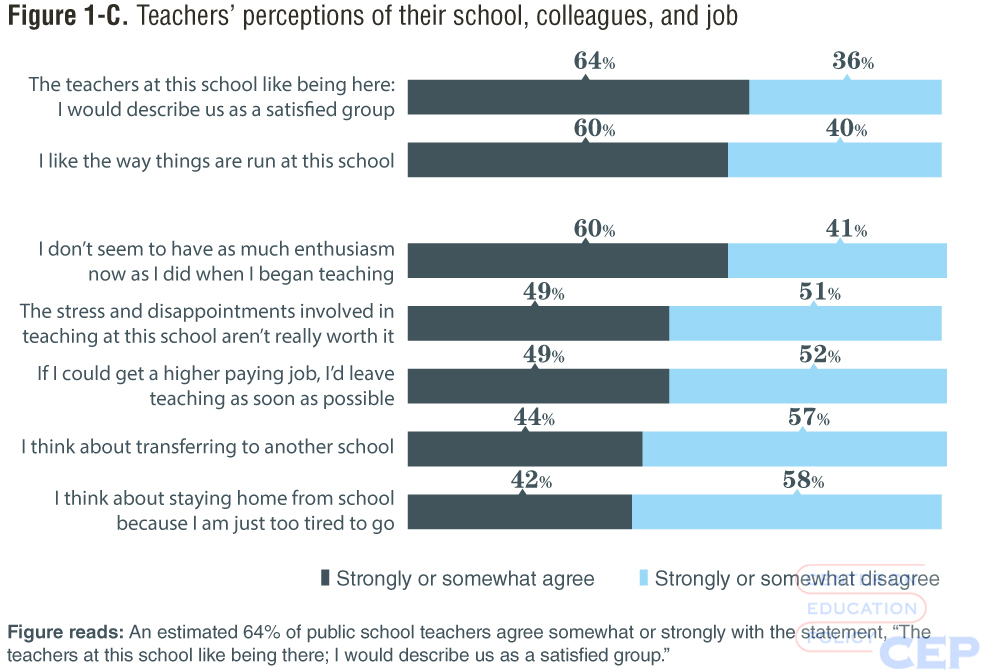 About half of the teachers surveyed agreed with the statement, "The stress and disappointments involved in teaching at this school aren't really worth it," and they would leave the profession altogether if they could get a higher-paying job.
Think about that.
Assuming this is a representative sample (it claims to be), half of America's teachers think exactly the opposite of what almost every teacher claims, that in spite of the challenges and frustrations, teaching is worth it. Half our teachers are telling us that, actually, it isn't.
And while at first blush it shouldn't be surprising that anyone would leave one job for a higher-paying one, in the case of teachers we're talking about people who already made the choice to forego higher salaries when they decided to become teachers in the first place. What the graph really says is, "This job is nothing like I thought it would be."
But perhaps you don't believe them. After all, we all know plenty of educators who like to complain and most teachers keep on teaching. It's actions that matter because people's words are often self-soothing stories they tell themselves. Actions are tangible and measurable. As Emerson supposedly said, "What you do speaks so loudly I cannot hear what you say." So what do teachers' actions reveal about how they feel about their jobs?
WHAT TEACHERS DO
Chad Aldeman spends his days (and probably his nights) studying and writing about pension plans. Because the plans involve billions of dollars, states make careful assumptions based on what teachers do, not what they say. According to Aldeman, "States' own assumptions show that, on average, more than half of teachers do not receive any employer pension benefits because they leave before they are eligible. Just one in five stays on the job long enough to receive full benefits at retirement." So in spite of a strong financial incentive to stick it out, four out of every five teachers, a fair number of whom undoubtedly claimed to be passionate about teaching while they were doing it, don't make it to full retirement age.
If teachers love teaching, not many of them love it for long.
The few that do stick around get out at pretty much the first opportunity. Aldeman writes, "Out of 100 teachers who are still teaching at 55 years old, the median state assumes that 65 will retire by their 60th birthday, and only 8 will remain teaching until they reach age 65. That is sooner than U.S. averages for all workers."
That's not exactly the behavior of people who see their job as a calling.
WHY IT MATTERS
So why does it matter? Where's the harm in teachers lying about how much they enjoy their work?
First, the truth, even when it tastes bitter, is more important than a lie.
Second, current teachers owe the truth to aspiring teachers so that young people can make informed career decisions. Half of teachers should not suddenly realize, once they start doing the job, that it's nothing like they thought it was going to be and they should have gone for the money instead of whatever ideal they thought they were choosing. The gap between the expectations young people have about teaching and the realities of the job probably explain a lot of early career attrition.
Third, and perhaps most importantly, policy and societal expectations are based on a belief that teachers love what they do; that because teachers derive pleasure from their jobs, it's okay to treat them differently than professionals who don't.
If you love your job, goes the thinking, then why should we pay you more money?
If teaching is your passion, then surely you wouldn't mind doing more of it?
If your job is a calling, then what wouldn't you agree to if it means helping your students and fulfilling your mission in life?
Saying you love your job might easily be interpreted by exploitative people as an invitation to further exploit you. At the very least, it sends the message that nothing needs to change. That everything is okay, and even if it isn't, we still think it's "worth it."
Let's start being more honest about our work. Teaching is rewarding, but it is also damn hard. It's draining, frustrating, and stressful, and those lows are occasionally ameliorated by moments of joy, relief, and success. It's meaningful work, made more meaningful by its challenges.
But it's exhausting and things could and should be better.
As a nation, we should want more than half of our teachers to love their work and we should start asking why they don't. The only way change will ever happen is if teachers share the realities of teaching, stop sugar-coating their frustrations with assurances that they love it anyway, and offer suggestions on how to make things better.
Teachers might not deserve to love their jobs any more than anyone else does. But parents deserve to send their children to schools full of teachers who want to be there, and students deserve to learn from someone who doesn't regret her career choice. Only by being honest about the job will the conditions of it ever change.
__________________________
I am, once again, partnering with Angela Watson to help promote her 40-Hour Teacher Workweek Club. It's an online professional development program that has already helped more than 32,000 teachers take control of their time and stay focused on what matters most. The next cohort starts in July, and the Club has been updated to cover emerging best practices for the changes ahead. Click here to join!