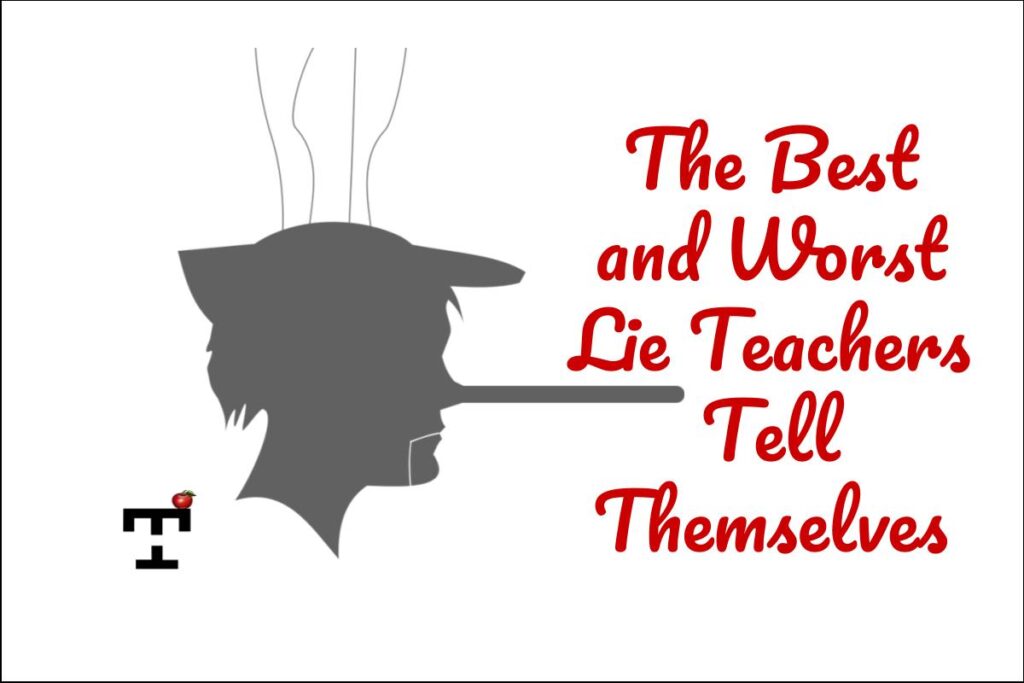 I used to dread notes from substitute teachers. Upon arriving at school following an absence, I would see a note on my desk and delay reading it as long as possible. I'd make copies. I'd fine-tune lesson plans. I'd check some papers, answer some emails. Eventually, curiosity would get the best of me and I'd read the note. Invariably, I'd learn about the awful decisions made by the usual suspects. My blood pressure would rise. I would rehearse the cutting words I was itching to hurl at them. Didn't they know how to behave? How dare they be so disrespectful! It was a horrible way to start the day.
An Epiphany
After a while, I came to realize that the way my students behaved for a sub usually had far less to do with my students and far more to do with the substitute. So instead of getting mad at my students, I would toss the note, unread, into the trash, and tell myself that whatever happened the day before was mostly a reflection on the adult at the front of the room. That led to an epiphany. If I blamed substitute teachers for how my students behaved, why should I not blame myself for what went on in my classroom on a daily basis?
It was the single most productive question I've asked as a teacher. It forced me to view every problem in my classroom as the result of something I had or hadn't done. It led me to realize that every issue in my room was something I could work to resolve. Through research, collaboration, and trial and error, I could improve my craft and enjoy the fruits of my growing competency. I could influence student behavior, effort, and motivation.
When students didn't learn, it was my fault.
When a student misbehaved, it was because of my classroom management, or my lame lesson, or my failure to build a positive relationship.
When students were bored, it was because I was not making things interesting enough.
When transitions were sloppy, it was because I hadn't taught them clearly enough or didn't have high enough expectations.
There's no question that I started to improve as a teacher when I stopped looking for excuses. Instead of labeling students as lazy, disrespectful, or selfish, instead of blaming their parents, or lamenting the effects of generational poverty, the ugly side of capitalism, or other outside circumstances for what happened in my room, I looked in the mirror.
My mantra was, "I am responsible for everything that happens in my room."
It's the best lie I ever told myself.
The Best Lie
It's an empowering lie. We can't do anything about our students' home lives. We have little control over district policies. We can't alter the standards. But we can control what happens in our classrooms. This is the way teachers who want to get better have to think. It's what we must believe. It forces us to evaluate our practice. It compels reflection. It leads us to seek out solutions, which means we're observing others, seeking information from multiple sources, and trying new approaches, all in the interest of improving our craft.
What's great about believing this lie is it forces you to do something about the only thing you can control: you.
But it's still a lie.
The Truth
The truth is that you are not responsible for everything that happens in your room. Sometimes, a child's poor decision has absolutely nothing to do with you.
The truth is that some kids are lazy. They were lazy last year, and they'll be lazy this year. They'll grow up to be lazy adults. Look around. They're everywhere. They didn't start becoming lazy because of a teacher.
The truth is that sometimes, no matter how hard you try, you can't reach a kid.
The truth is that some students have very little self-control, and no matter how much you try, they still won't have much self-control when they leave you.
The truth is that some kids know damn well what they're supposed to do and they don't do it for reasons that have nothing to do with you.
The truth is that no matter what you do, some students will find it boring.
The truth is that some students don't want to accept responsibility for their learning, and so it's easier for everyone — the student, their parents, your boss, politicians, people who don't know jack diddly about teaching — to blame you.
The truth is that sometimes, it's the kid's fault. Sometimes, their failures are on them. In fact, we rob something important from a student when we accept blame for their failures, just as we would rob them by taking credit for their successes.
The truth is that your impact isn't nearly as great as you have been led to believe.
When you believe the lie that everything that happens in your classroom is because of you, then you will improve as a teacher. You will constantly problem solve. You will try new things, read more, and connect with other teachers. You will experiment, fail, tweak, start over, fail again, and try anew. You will learn. You will grow. You will get better.
The Worst Lie
But lying has consequences. The more you put on yourself, the greater frustration you'll feel when things don't go well. The more accountability you accept for others' choices, the more stress you'll feel when those choices are poor ones. The more stress you feel, the more exhausted you'll be. And the more exhausted you are, the more likely it is that you'll burn out.
I know teachers who go home in tears over their students' poor choices. They expect to make a difference, and when it seems as if their efforts are going to waste, they feel incredibly disheartened. When it seems like we're not having an impact on our most challenging students, we feel like failures. We lose sleep. We stress over how the behavior of a few students affects our classroom cultures and how the learning of the other students is harmed. We become anxious over even the thought of anyone peering into our rooms, seeing our struggles, and judging us because we have already judged ourselves so harshly. When we put everything on our shoulders, it's hard to stand tall. Our knees buckle. Some of us collapse.
What teachers need isn't more accountability for things over which they have little control. I know very few teachers who don't already feel tremendously accountable for what happens in their classrooms. Teachers need to know that they can't solve every problem in their rooms because they can't solve every problem in their students' homes, in their communities, and in society. Yes, teachers should always try to improve. They should look at themselves first. But they should also admit that they're not miracle workers. And just because parents, administrators, policymakers, reformers, and even teachers themselves believe they can do it all, doesn't make it true.