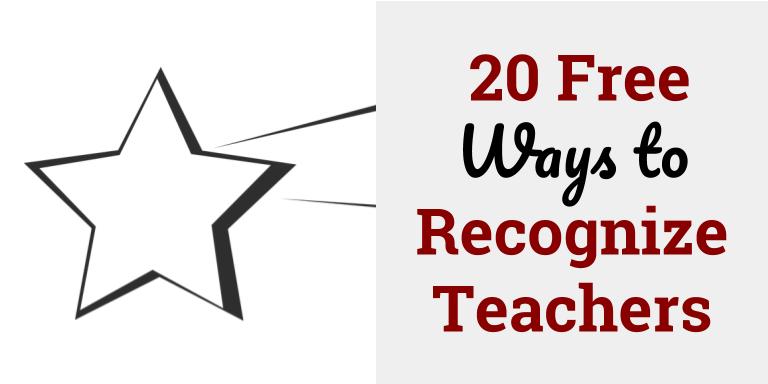 Teacher Appreciation Week is just around the corner and cash-strapped districts are looking for ways to recognize their staffs. As well they should.
A Gallup survey of more than four million employees worldwide found that individuals who received regular recognition and praise:
increased their productivity
increased engagement with colleagues
were more likely to stay with their organization
received higher loyalty and satisfaction scores from customers.
A Lot of Teachers Aren't Recognized
The majority of us don't give or receive anywhere near the amount of recognition we should. Only 17 percent of employees who participated in a Bersin & Associates study indicated that their organizations' cultures strongly supported recognition. As a result, we're less productive, and in many cases, completely disengaged at work. According to the U.S. Department of Labor, the number one reason people leave their jobs is that they "do not feel appreciated."
According to a recent OGO survey, 82 percent of employed Americans don't feel that their supervisors recognize them enough for their contributions. In schools, a lack of funding may be the reason. Some principals, knowing there's no money in the budget, give up on recognition altogether, not realizing that most teachers would appreciate things that don't cost a dime.
So here are 20 free ways to appreciate teachers.
20 Free Ways to Appreciate Teachers
Handwritten Thank You Cards—In today's digital world, everyone appreciates the time and thought behind handwritten notes. One survey found that 76% of people save these kinds of cards.
PA Announcement—"A big thank you to Mr. Murphy and Mrs. Peterson for staying after the concert last night and helping to put away chairs." Not only would such an announcement make the teachers feel good, but it would show students what the school values.
Public Praise—Schools communicate with parents and the community in all sorts of ways. Districts could recognize teachers by praising them in newsletters, on school Facebook pages, or in automated calls that go out every Sunday night.
Solicit Former Students—A few years ago I received three letters from former students. For a writing project, they were to write to people that had influenced them. It didn't matter to me that they were satisfying the requirements of an assignment, because their words were heartfelt. Schools could easily set up a program whereby former students, once a year, write a letter, email, or just fill out a simple card thanking a former teacher.
Showcase—Most schools have showcases, often filled with student work, dusty trophies, or some school-wide project. Why not select one showcase that highlights the good work a teacher did the previous week? A photo of the teacher could be included with a brief write-up of her good deed.
Decorate Their Door—One way to let the whole school know that a teacher has done something deserving of recognition is to have a small team of parents or other teachers decorate their door. Shooting stars, bright colors, fireworks, a big THANK YOU sign, and (for a nominal cost) some candy bars could be affixed to the door. Students would ask what the hubbub was all about, which would give adults the opportunity to praise the teacher.
Wish Lists—My daughter's school does something pretty cool. At parent-teacher conference time, each teacher fills out tear-away slips of paper on which they request personal and classroom items. Parents, who often want to show appreciation for teachers but aren't sure what to buy, now know exactly what the teacher wants. They tear off the slips of paper, and over the week, send the items in with their children. I've bought my daughter's former teachers chocolates, Coke, and Expo markers. I did not buy the motorcycle this year's teacher jokingly included in his wish list.
Free Entry—Why not allow deserving teachers into this spring's high school play for free? Heck, give them two tickets so they can bring their spouse. Same goes for athletic events. My district has an Aquatic Center and a performing arts center. Teachers who embody the values of the district and who regularly go the extra mile could be awarded with season passes to these types of venues.
Jeans Day—I really look forward to Friday for many reasons, and wearing jeans is one of them. Principals could recognize teachers by letting them wear jeans on whatever day they choose.
Clean and Organize—As the year goes on, the books in my classroom library find their way into all kinds of strange baskets. Somehow, Louis Sachar's Holes ends up next to a Wimpy Kid book in the basket labeled "Junie B. Jones." My cabinet ends up similarly disorganized, with staples, Post-It notes, and scissors all sharing the same tub. Also, and this isn't a knock on the custodians, but the surfaces of my students' desks could use a thorough scrubbing. One way to recognize teachers would be for a team of parent volunteers to come in before or after school for 45 minutes and spruce things up a bit.
A Break From That Kid (You Know the One)—Truth: I usually have at least one student who, by May, is on my last nerve. He's the kid who never misses a day. I would greatly appreciate a break from That Kid. To thank a teacher for extra work, another teacher could take That Kid for an hour. Or he could walk around with the principal for three hours. Or…I don't care, just get him out of the room for awhile.
Food–You can't go wrong with food. Staff breakfasts, lunches, snacks, candy- it doesn't matter. Teachers love food. It doesn't have to cost anything either. This year, our local theater donated a trash bag full of popcorn. Most schools have students whose parents own or manage a local restaurant. They are often happy to donate food. They just have to be asked.
Car Wash—Early in my teaching career, a group of parents set up a car wash in the school parking lot. They collected all the teachers' keys first thing in the morning, and then took care of everything from there. Every teacher drove home with a shiny clean car at the end of the day.
Chair Massage—Teachers are stressed and they have disposable incomes. Some insurance plans even cover massages. All of which is to say that if you're a local masseuse, you'd be an idiot to not donate a day to give teachers a free chair massage during their planning periods. Even if you only converted two of them to paying customers, the goodwill alone would likely lead to more clients.
Staff Meeting Exemption—Teachers universally hate staff meetings. (And those who don't are afraid to admit it, so I'm safe with my blanket assumption.) We all have better, more pressing things to do. Principals could reward deserving teachers with a Get-Out-Of-Staff-Meeting-Free card. There's nothing better than getting to skip something unpleasant that everyone else is required to attend.
Duty-Free Day—Teachers hate duty about as much as staff meetings. Appreciative principals could relieve teachers from recess, bus, lunch or whatever other duties they perform for a day (or week).
One Free Hour—At the busiest times of the year, like right before progress reports are due, principals could provide whole grade levels with a free hour to work. By taking students and showing a movie in the gym, or supervising an extra long recess, or giving students time to play games in the computer lab, principals could show teachers that they understand the pressures they're under and give teachers what they want most of all–found time.
An Hour Lunch—What's commonplace almost everywhere in America is a luxury no teacher ever experiences at school–an hour lunch. Mine is 35 minutes. Some teachers don't even receive a duty-free lunch; they supervise students while they eat. Principals can cover a teacher's responsibilities so that the teacher can actually leave the building, go to a restaurant, and enjoy an unhurried sit-down meal. You know, like a real professional.
Leave an Hour Early—There's something wickedly delicious about leaving work early. I have few fonder childhood memories than when we were sent home early from school because of snow. On the few occasions I've been granted permission to leave work early for a meeting or a personal need, I almost couldn't contain my giddiness as I rushed to my car. Principals who really want to show appreciation can cover or arrange for the last hour of a teacher's responsibility to be covered so that the teacher can experience the joy of leaving work before anyone else. (I saw one teacher refer to these as "GOOSE" coupons, which stands for Get Out Of School Early. I like it.)
Kind Words—Sometimes, the simplest way of recognizing someone's efforts is all that's needed. Genuine thanks is a good place to start. And a good place to end this list.